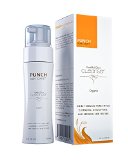 Youth Glow Cleanser regulates the oil glands that produce the sebum (oil), which moves through the lining of each pore and then onto your face.
Youth Glow Cleanser creates an unbreachable barrier, blocking all bacteria that are encountered throughout the day from touching your face.
Youthful Glow Cleanser can both remove excess dead skin cells from the surface of the face and exfoliate inside the pore, to reduce its size.
Weightless molecules, formed from organic citrus juice, combined with natural antibacterial ingredients allow the cleanser to be pulled into the pores, as the oil and dirt are dissolved, allowing for a deeper and more effective cleanse.
Daily use improves cell production, to help your pores function more naturally. This is the best facial cleanser you will ever buy.
The Worlds Best Facial Cleanser.
What if you found a product that delivers the results you truly wanted, not the ones you've had to settle for? Imagine skin that makes you feel beautiful when you look in the mirror.
As you wash with Youthful Glow cleanser The foam holds the dirt away from your skin to insure a clean rinse.
The Organic Aloe Leaf Juice soothe skin and serve as an anti-inflammatory also contains enzymes, which are the life-principle in every live.
The microbe propionibacteri
List Price: $ 24.55
Price: