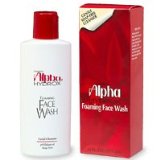 Please read all label information on delivery
Cleanses while maintaining skin's moisture level
Leaves skin looking and feeling soft, smooth, and fresh
Removes impurities and environmental pollutants
Rinses clean, leaving no irritating residue; fragrance-free
This wonderfully sudsy foaming cleanser gently but thoroughly removes every trace of dirt and makeup to leave skin refreshed and totally clean. It's soap-free, alcohol-free, and pH balanced, which means dry complexions can use it without any fear of stripping natural oils. Yet oily skin can also benefit, since this cool wash doesn't pack any of the pore-clogging moisturizers that can contribute to acne.Gentle Soap-Free Cleanser Recommended for:  All Skin Types.  Soap-free.  Fragrance-free.