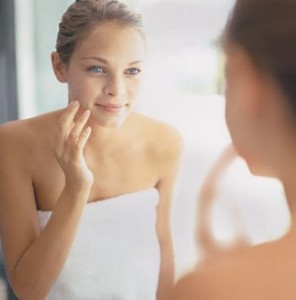 If you've read our content about choosing the right moisturizer for oily skin, here are some helpful tips on applying moisturizer to help you control oily skin and an oily T-Zone.
It's important to apply moisturizer correctly, to prevent putting pressure on your oil glands, and to reduce the risk of acne breakouts.
How often should you apply moisturizer for oily skin?
The answer to this depends on whether you have oily skin, or combination skin, and other factors such as your climate and humidity levels.
In general, the recommendation is to moisturize oily skin only once a day in the evening, after you've cleansed.
If your skin feels tight or taut, or has visible dry patches, you may choose to moisturize in the morning as well.
Helpful Tips – Applying Moisturizer for oily skin
It is best to apply moisturizer whilst your skin is still damp.
After washing your face and cleansing, gently pat your face dry with a clean towel or cloth, taking care not to rub your skin.
Gently apply moisturizer for oily skin with clean hands using a small amount and rub into you skin using small circular motions.
Try not to press your skin too hard, as this can squeeze oil from your glands, and clog your pores.
Apply moisturizer a little at a time, and only apply a light covering over your forehead and chin, as these facial areas tend to be oilier than your cheeks.
Avoid applying moisturizer to your nose, as your nose contains the highest concentration of oil glands on your face and the skin seldom becomes dry.
Other helpful moisturizing tips for oily skin
Don't forget to moisturize your neck too, start at the base and gently apply moisturizer using an upward motion towards your jaw. Neglecting to moisturize your neck can lead to a noticeable difference in your skin's elasticity over time.
If you use a moisturizer containing sun protection, and your skin is irritated or your complexion is not even, try switching to a evening moisturizer for oily skin that doesn't contain sun protection. This can help calm your skin if irritated and the moisturizer may feel lighter when applied.
In the mornings simply wash you face with warm water, and pat dry. If you skin feels clean and there are no signs dry skin, then you can skip moisturizing in the morning if you choose to. It's important to monitor your skin and to have flexibility in your skin care regime – only moisturize in the mornings if you need to, as this will help control an oily face, and a shiny forehead, nose and chin throughout the day.
Feeling confident with Moisturizer for Oily Skin
Now you know how to choose and apply the right moisturizer for oily skin, you have all the information you need to help control oily skin and an oily face.
You should start to see the results within a week, with healthy, hydrated and fresher looking skin.
Do you have your own beauty tips for oily skin that you'd like to share with our readers? If so, you're welcome to add a comment below with the top tips you follow when applying a moisturizer for oily skin.
For more information on how to choose the best moisturizer for oily skin, click here…
Recent search terms:
how to apply moisturizer for oily skin